BAGRS Members Frank and Donna Lucas

  welcome you to their little garden railroad

        in Pleasant Hill, California.

Looking down on Lucas Valley.

MILESTONES:

  Feb 11, 2005:           Zoning Commission  approval.  (Donna)

  Feb 14, 2005:           Environmental Impact Study completed. (Neighbors)

  Feb 17, 2005:           Financing secured (Second Mortgage).

  Feb 20, 2005:           Theme established: "The Orange Blossom Special"              

  Feb 25, 2005:           First construction step. (PVC conduit for low voltage bus.)

  June 26, 2006:         Golden Spike and first circuit.  Champagne!     

  July 4, 2006:             Formal presention. Ribbon-Cutting, Speeches, Fireworks.

  July 8, 2006:             Impromptu showing to the 2006 National Garden RR Convention         Oct 15, 2006:            First BAGRS  Diablo Valley District Open House.

  Feb 14, 2008:           Completion of this 30-slide web page.                                   

  June 14, 2008:         Open House for the PCR NMRA.

  October 2008:          First appearance in Garden Railways magazine.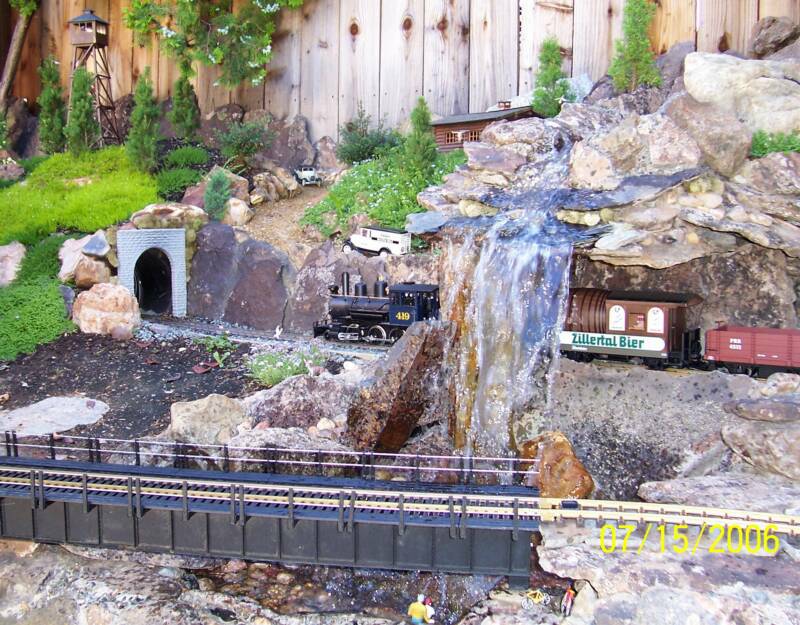 CHUG! Passing under Nancy Falls.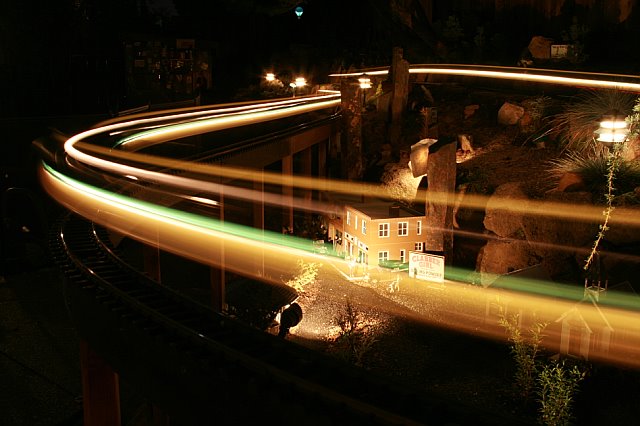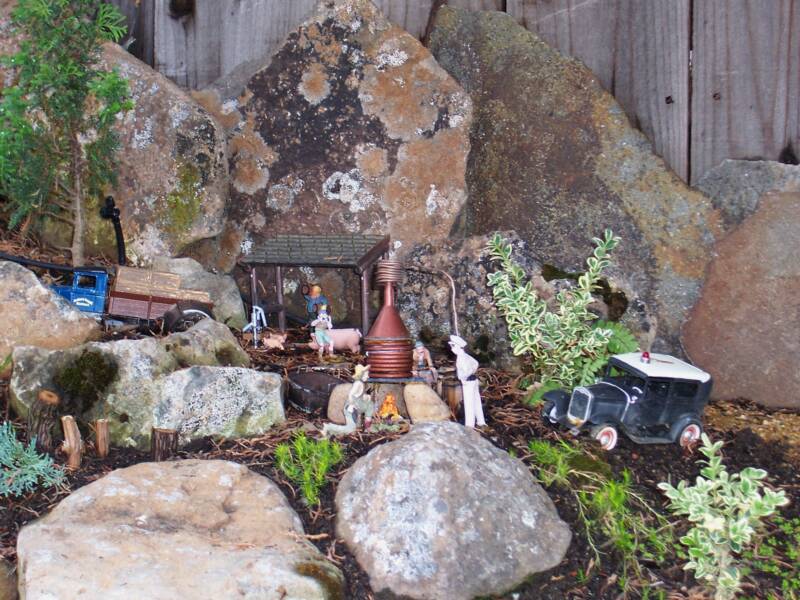 She was just a poor moonshiner's daughter, but I loved her still......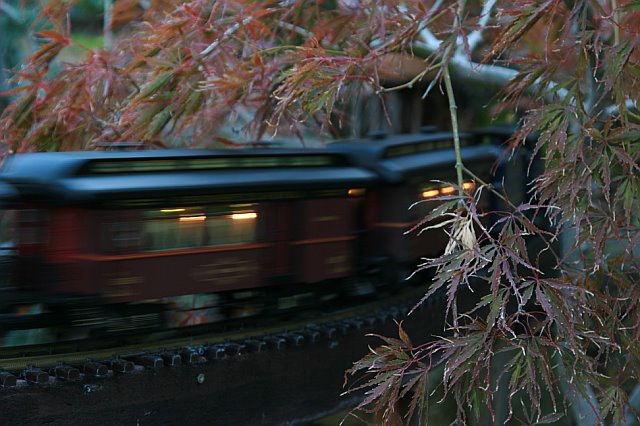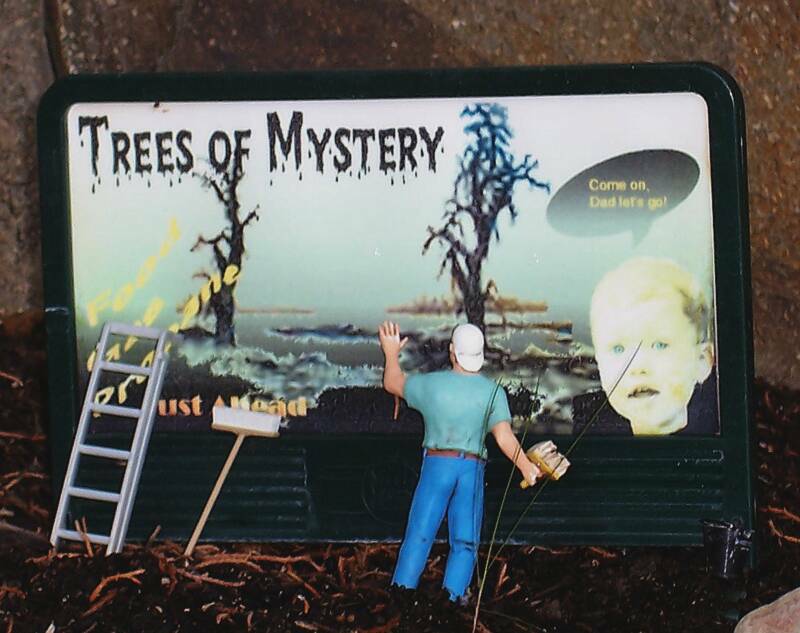 Our Grandson, Oliver.....hawking the tourist trap.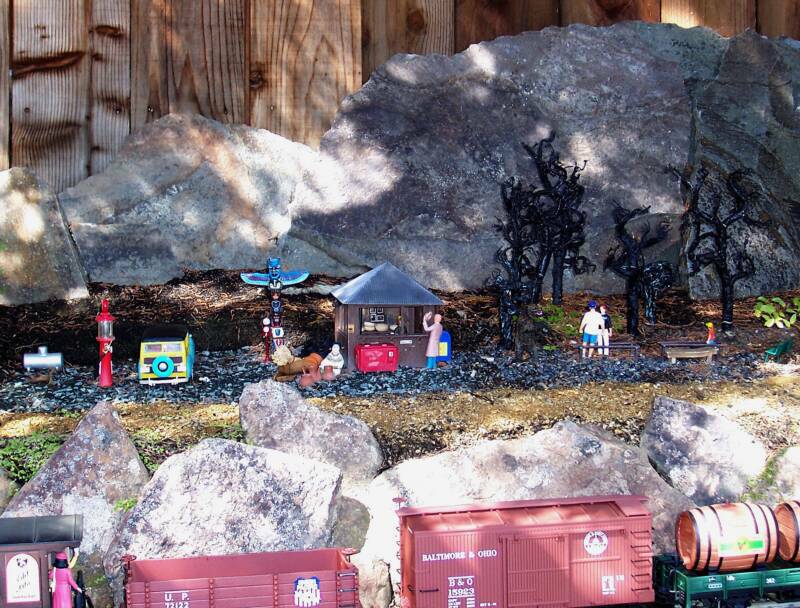 Ye olde tourist trap.                                                                        (Ref: Garden Railways, October, 2008.)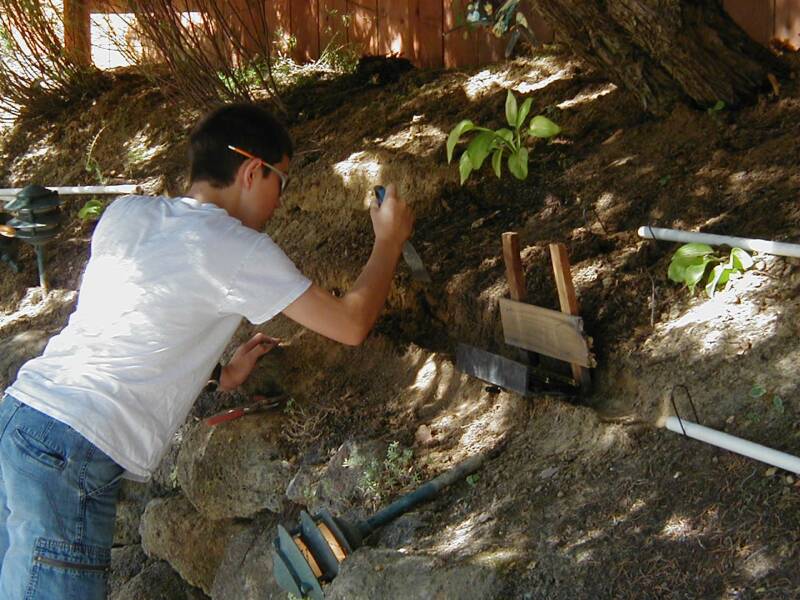 Grading and Paving subcontractor ....our Grandson, Lucas.  (Low bidder)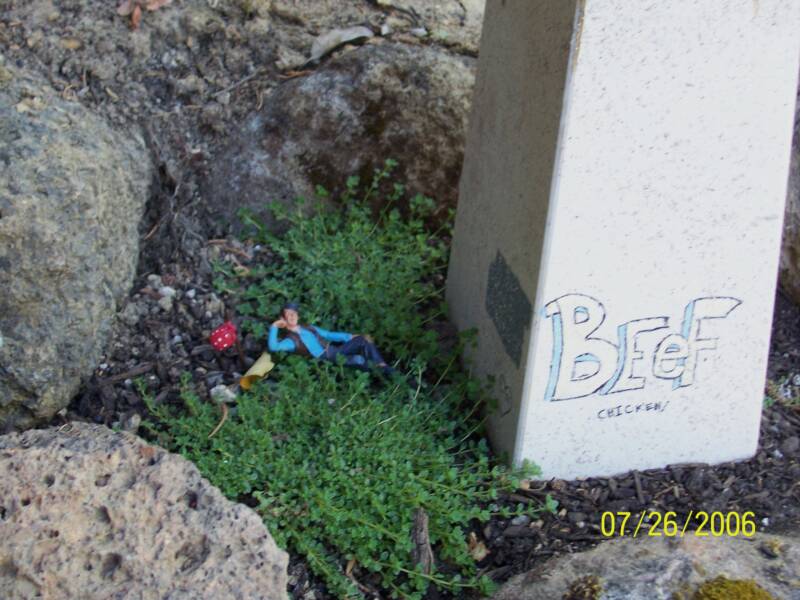 This is what happens when you ask your 14 year-old Grandson to build some of your kits.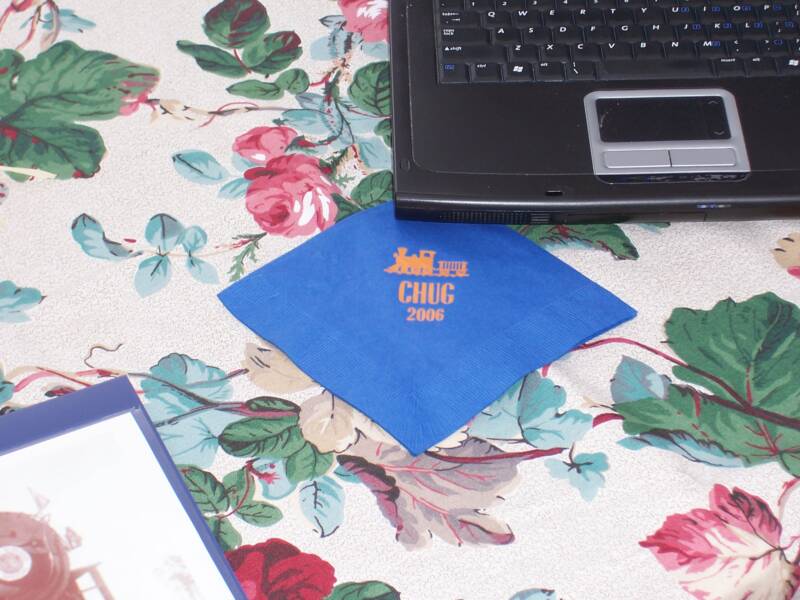 BAGRS (Bay Area Garden Railroad Society) Diablo Valley District Open House.   www.bagrs.org

BACKGROUND:  I wish that I had a picture of the fantastic Lionel layout that I built on a 12 x 5 table in the basement of our Chicago bungalow when I was 14 years old.  Tunnels, overpasses, scenery, operating accessories..... I see these for sale now, used, and regret that I told my Father who was preparing to move out West to just give them away or sell them, when I was 23 and away starting my own family.    But later, Donna gave me a simple HO set for under our Christmas tree, which then expanded every year into a 9-turnout, multi-train "game", with all the trees and houses, and....well, you know. But even this went by the wayside as our children moved away (Yayy!) and we decorated with much, much smaller trees.

Sigh.....no more trains.

Then....it happened.  Our pool contractor said that he could put the new pump and filter in the corner of the shed instead of in the center where it was.  A-Ha!  That meant that I could make a G-scale turn at that end of the embankment.

The F&DL Railroad was a-happening........ based loosely (Very) on a train that ran on the Seaboard tracks alongside the Appalacias from New York to Miami in the 30's......."The Orange Blossom Special".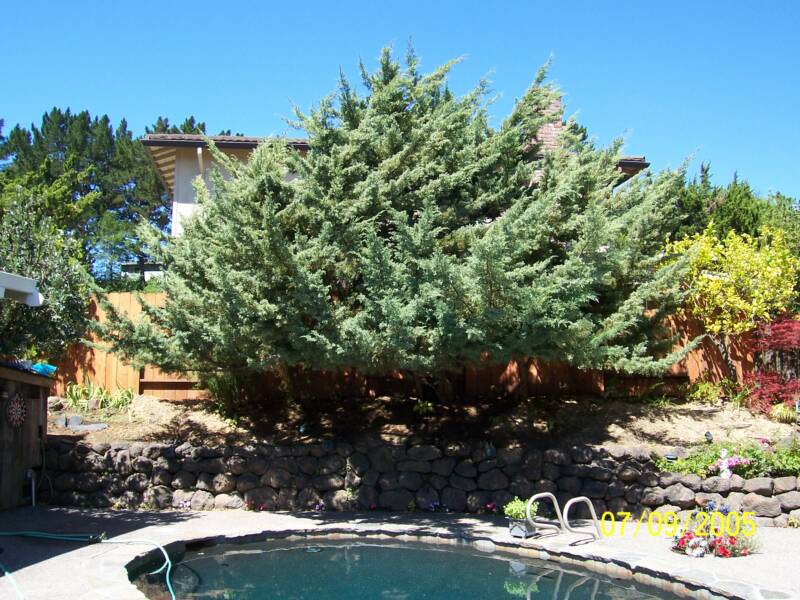 "You're going to put a what in there?????"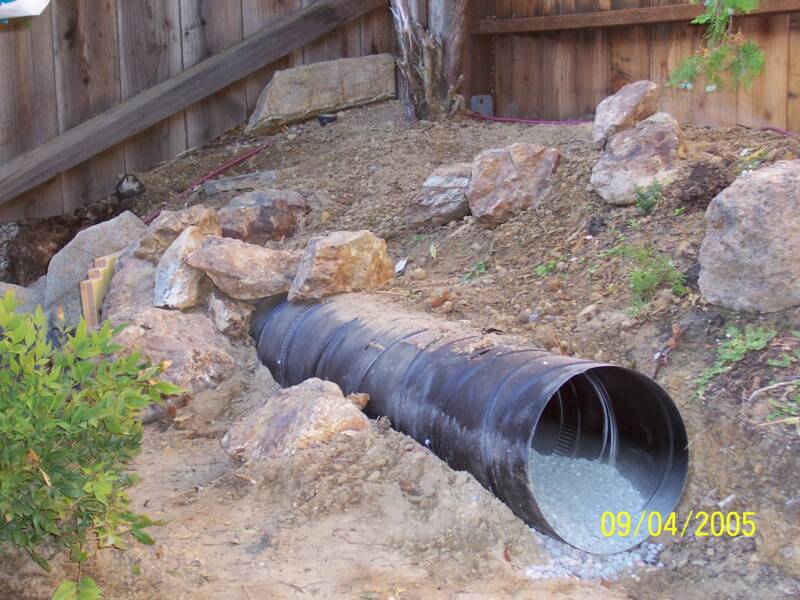 If you build it...................................your back will really, really hurt.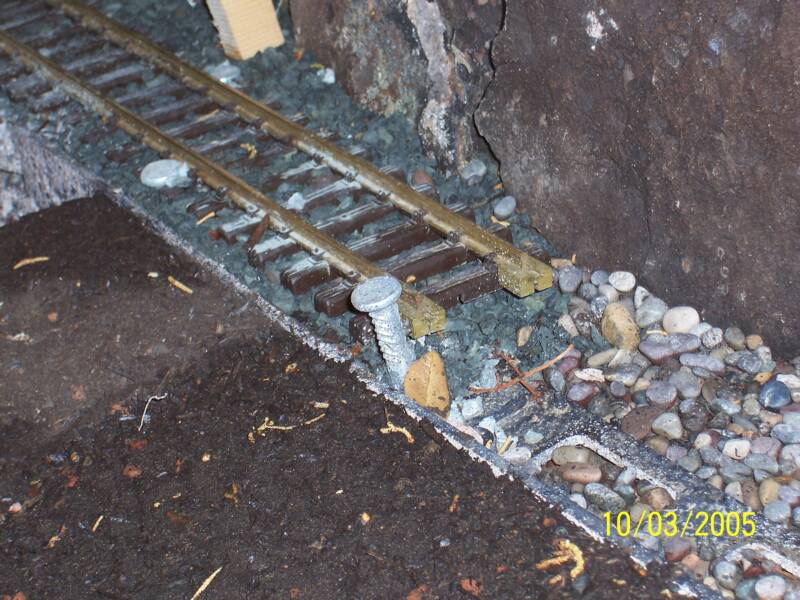 Spiked-down "L"-shaped garden edging, pea gravel, and crusher fines.

What to do when it's raining.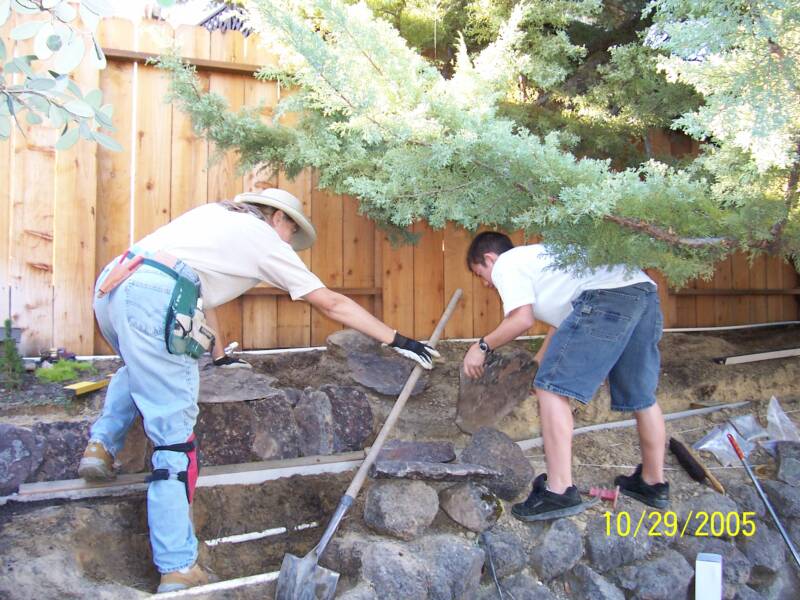 Nancy.....building and teaching....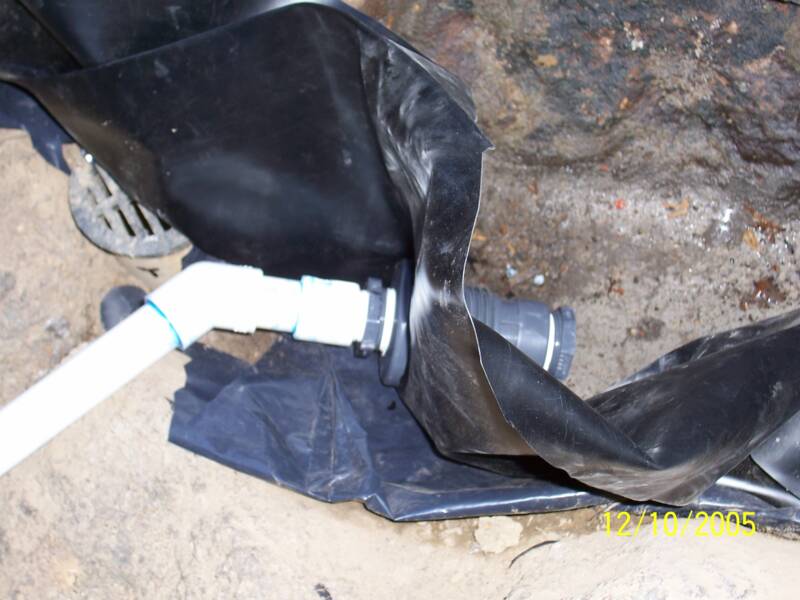 Nancy's secret gizmo for an open-ended, non-recirculating  waterfall. No pump or filter.  The always fresh water flows out by gravity and helps keep our swimming pool filled.         Ref. Garden Railways, June 2009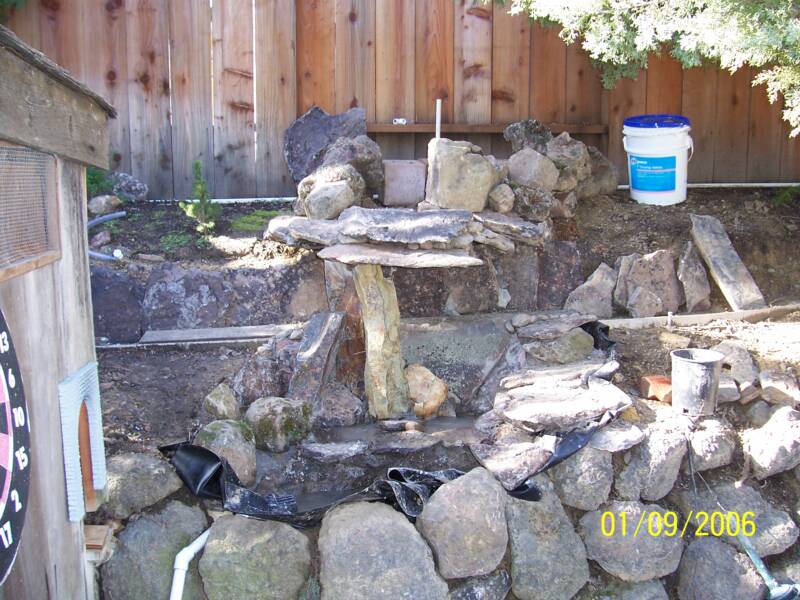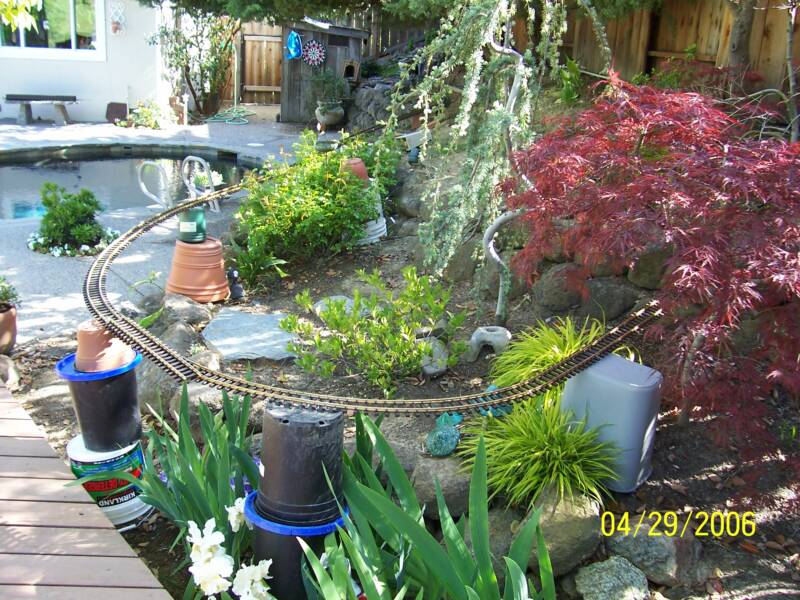 I have heard that there are better ways of doing this.......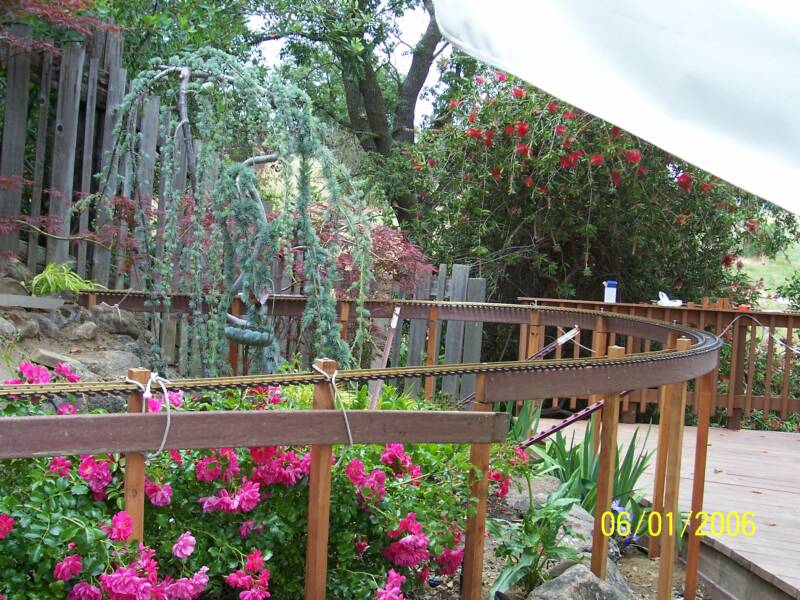 Very few of these 2x2's actually went in as planned.  Water lines, boulders, and large roots had other ideas.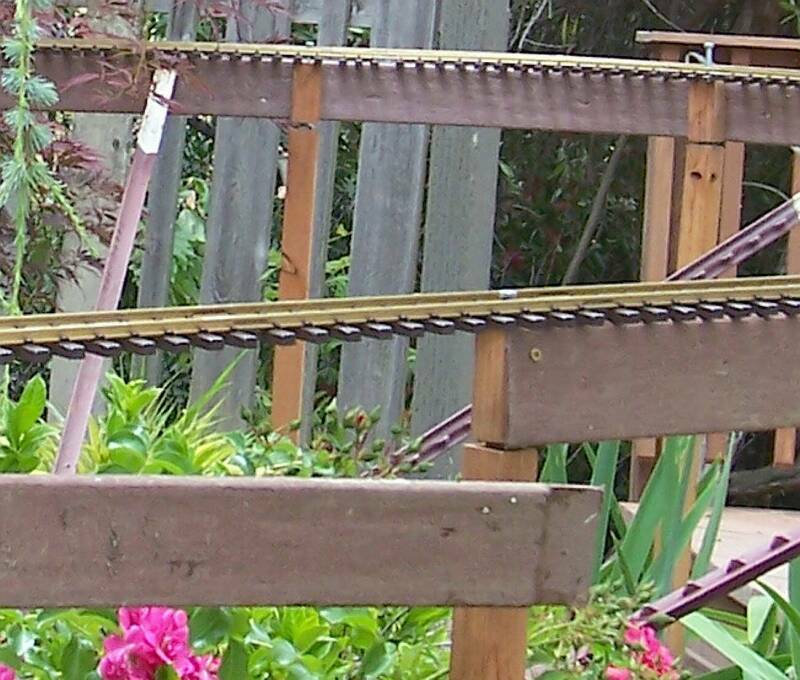 Frank's patented tilt and height adjusting thingamajigs.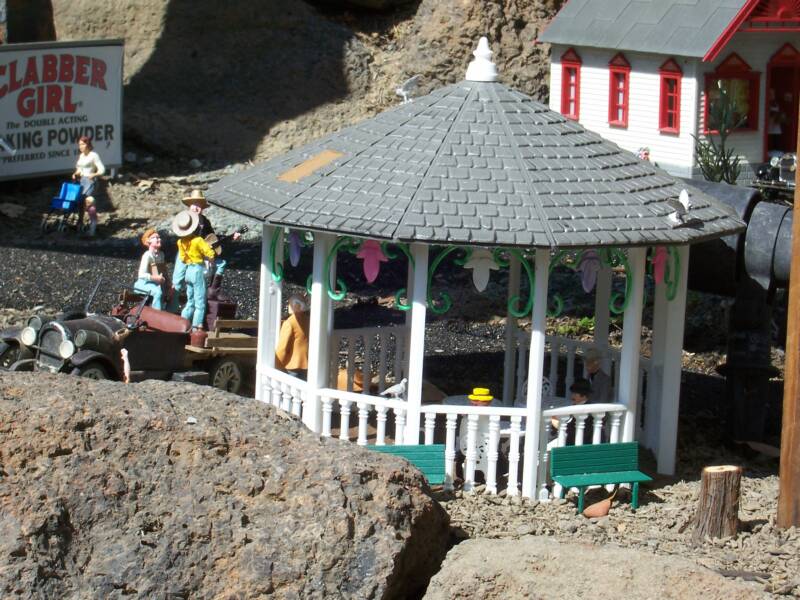 Yep. To hear that Bluegrass trio on the truck playing

                THE ORANGE BLOSSOM SPECIAL, click here: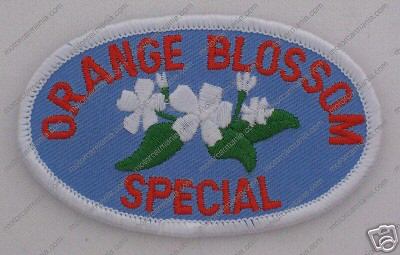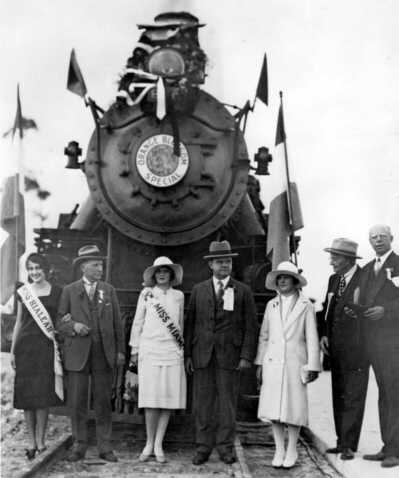 Hey!   That sort of looks like CHUG!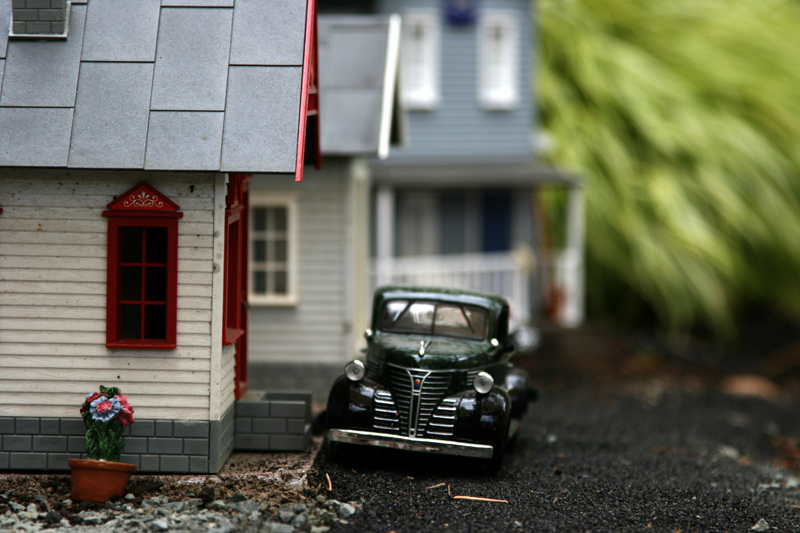 Life was a lot simpler back then.......

I think that this is called a "whistle stop".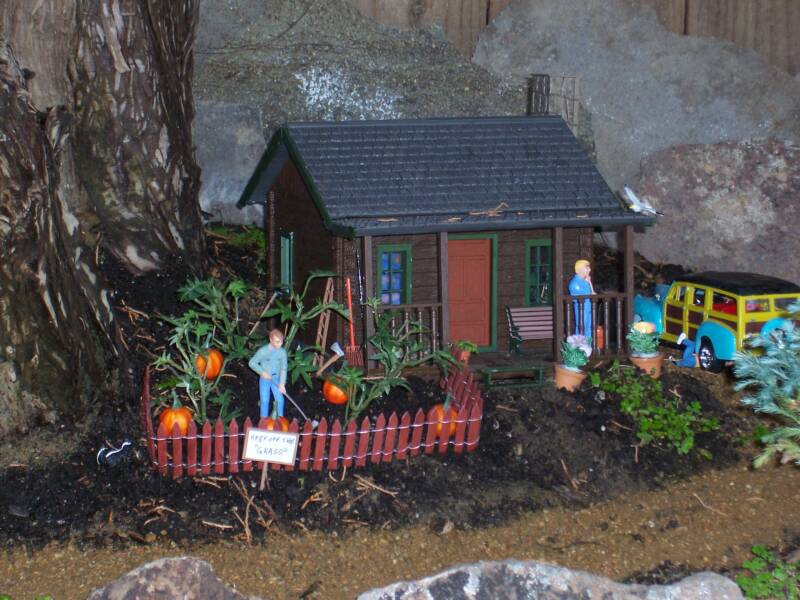 The sign at  Mary Jane's house says Keep off the "Grass", but I don't see any.   Do you?

THE MANY FACES OF CHUG!................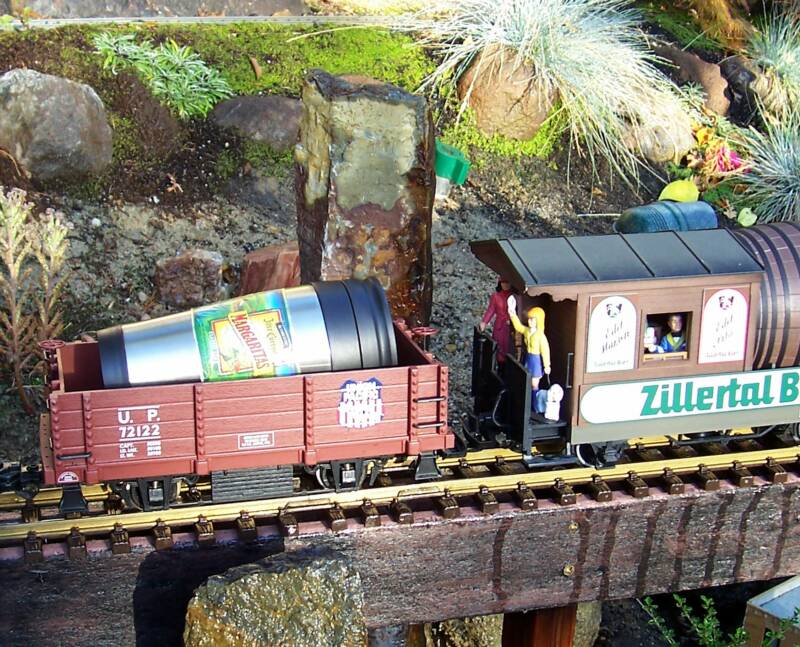 Working CHUG!   Delivering the goods..........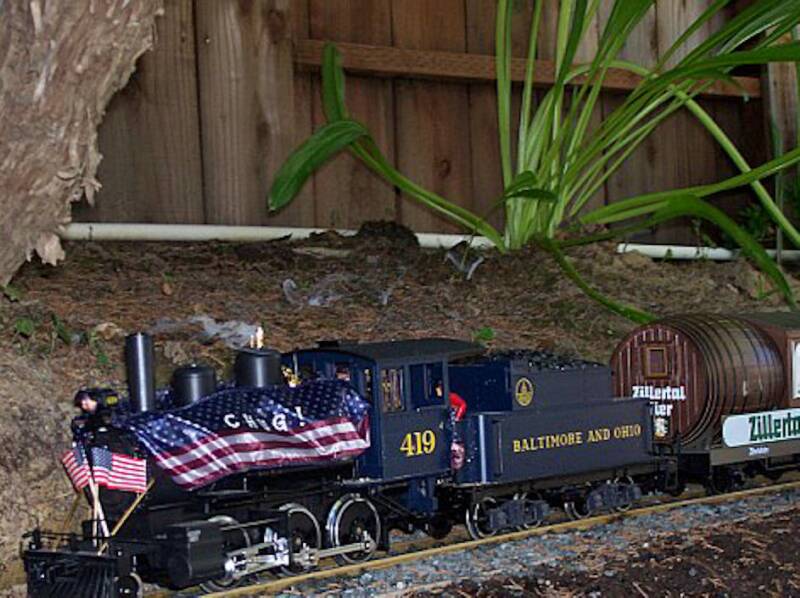 Patriotic CHUG! ..........

Christmas CHUG!...............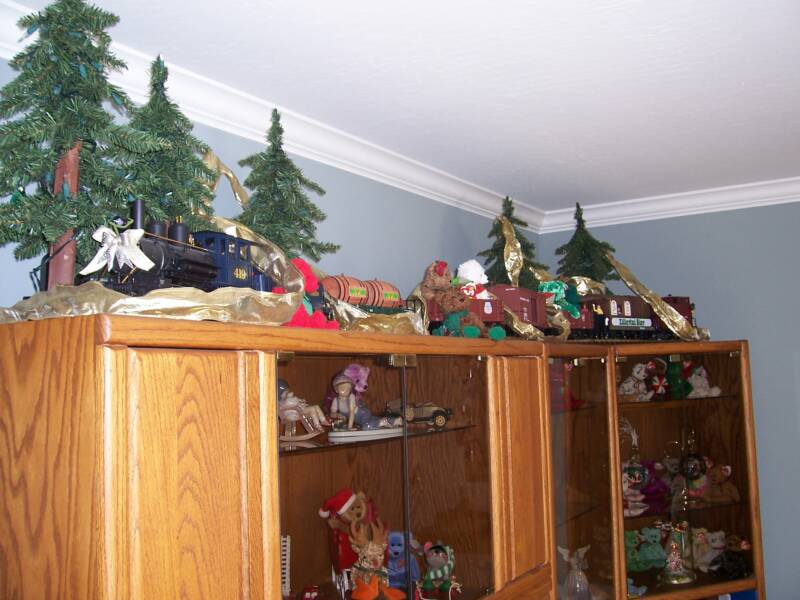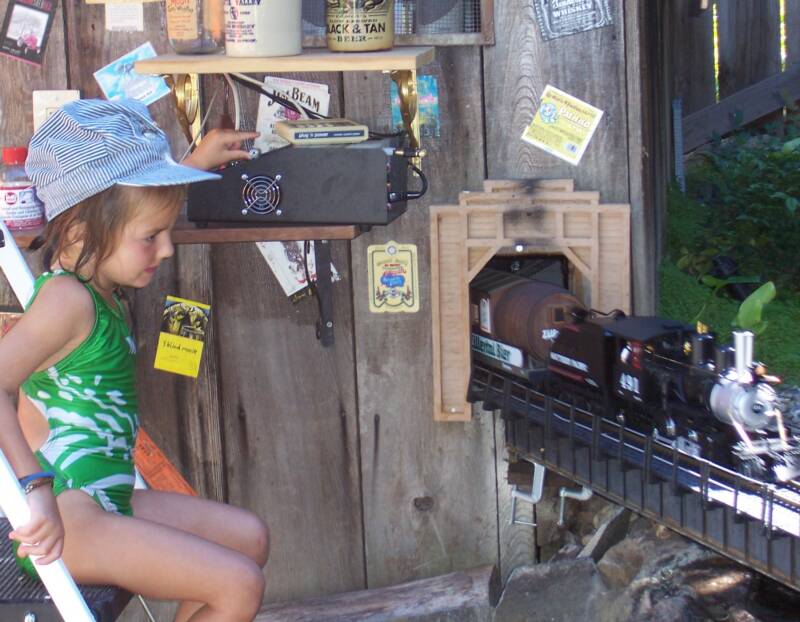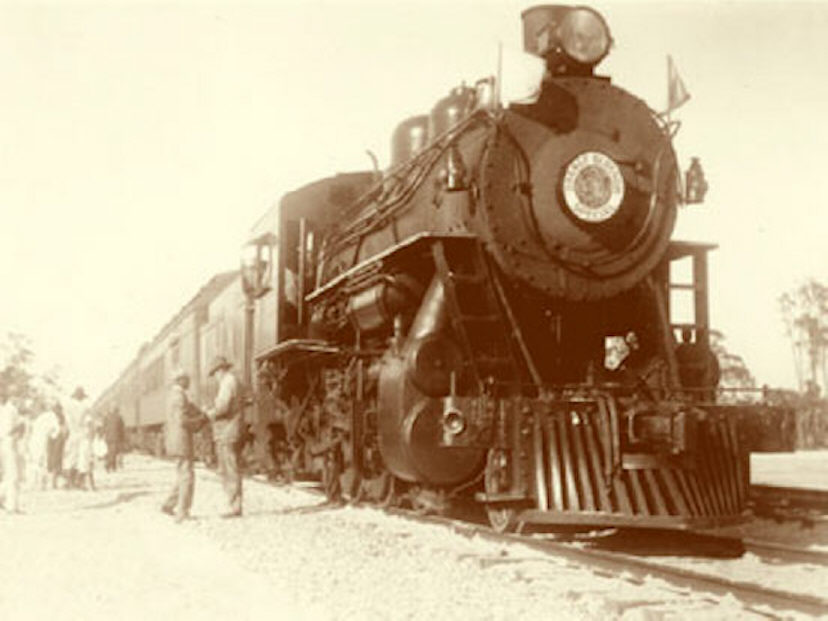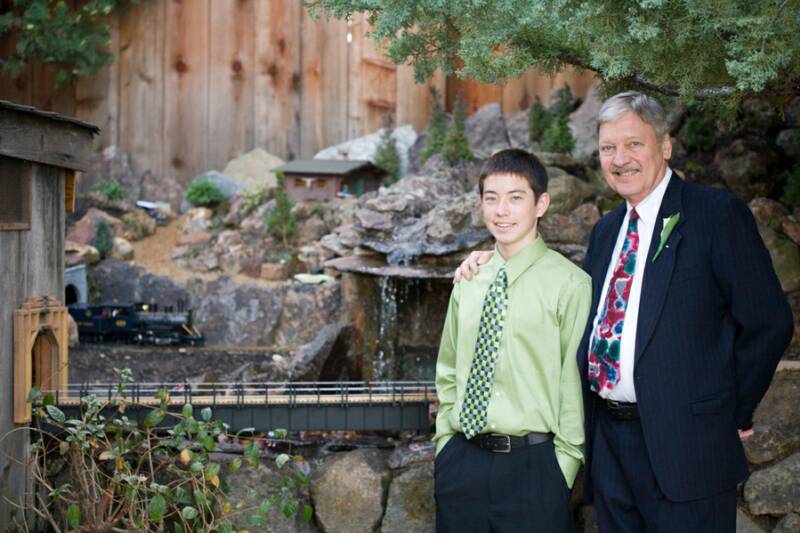 Thanks for stopping by.  We hope that you have enjoyed visiting our website as much as we have enjoyed building our garden train.   The F&DL Railroad operates daily from about Easter until Thanksgiving.  If you are in town and would like to see it up close and personal, give us a call at  925-933-3360, or email to fplucas.fl@gmail.com..  We will gladly give you a tour.  Pleasant Hill is about 30 miles East of San Francisco.

Oh, and if you spotted the Mona Lisa, just mention that, and you will get a special prize.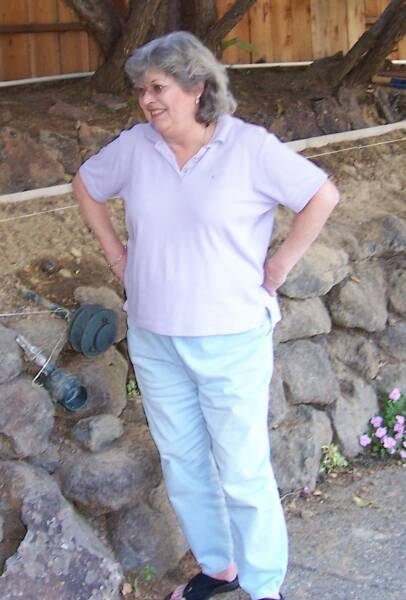 Somewhere below is a picture of the Mona Lisa.

Can you find her?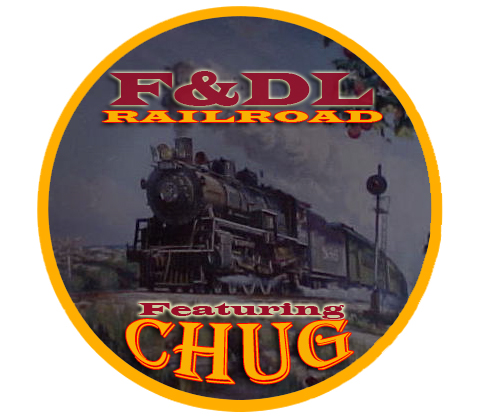 Even the neighbors have a Garden Railroad.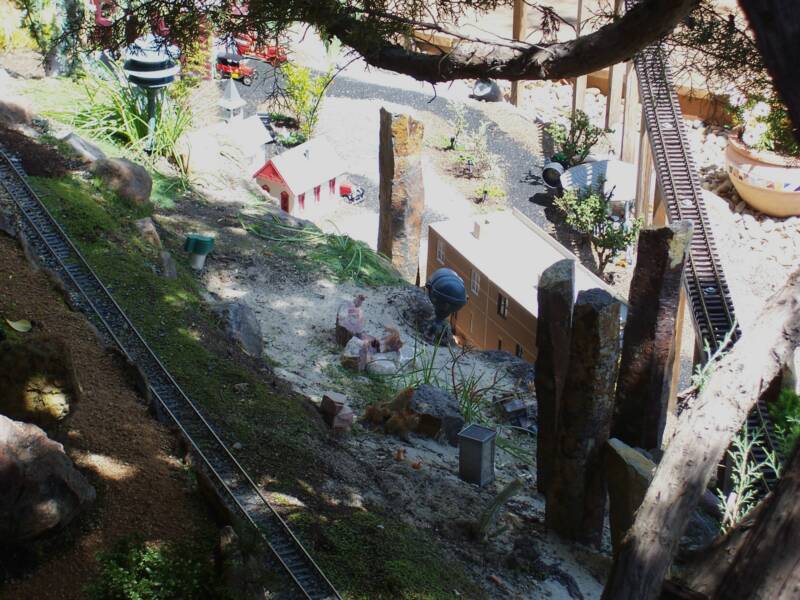 What Mr. Wilson sees.............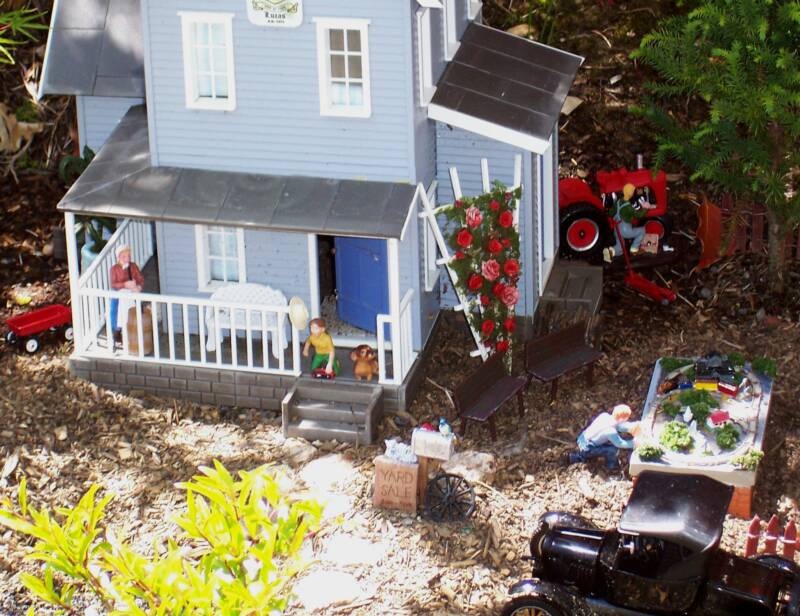 Until then, Keep on Chuggin'..........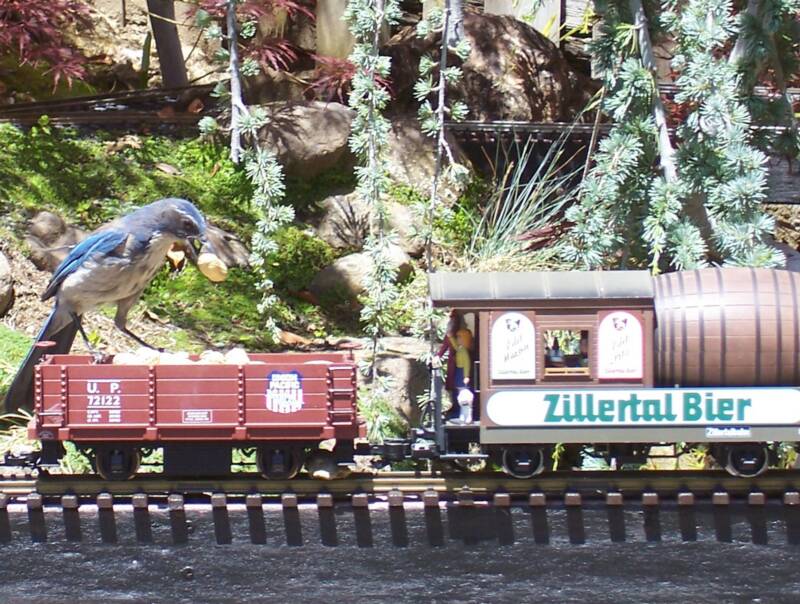 Feeder Line CHUG!                                                             (Ref: Garden Railways,  February, 2009)